Performance NVMe Virtual Private Server
VPS servers are available with full root access, DDoS protection, NVMe storage drives, management, and multiple data center locations in USA, Europe, and Asia, among other things.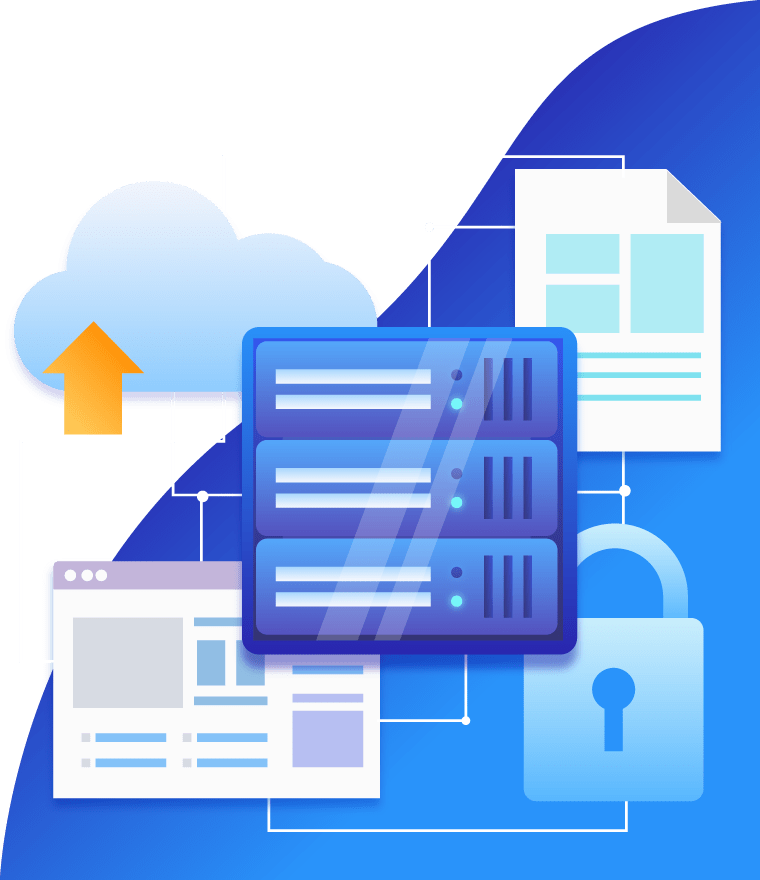 Why NVMe Virtual Private Server

Safe & Secure
We have a number of security protocols in place to keep your data safe and secure. All of our NVMe VPS servers are protected with anti-DDOS software so that no one can take them offline. We also keep your data safe with daily data backups to protect you against disasters. Our data centers are secured with 24/7 monitoring to keep them safe from intruders. You can also control your server with the cPanel control panel, which lets you install a variety of software.

More Configurable
You can host your websites through the VPS, and the SSDs will provide storage for your heavy lifting. This will provide you with the flexibility of hosting multiple websites from one VPS. You can also use the SSD storage to store files such as media and documents. This level of configurability is not available with other providers. You can choose your VPS plan on the basis of the performance that you need. We also provide a 99.95% uptime SLA, which is the industry standard. You can even get a remote hands installation on the VPS if you are a beginner and do not know how to set up your website.

Better Stats & Control
You can view usage data in real-time, monitor critical performance indicators, and receive usage alerts via email or Slack. Our NVMe VPS come with a dedicated IP address, a powerful CPU, and a massive amount of RAM so that you can access all of your data quickly. You can also upgrade your VPS plan to get a dedicated IP address and a dedicated CPU.
Our Features
NVMe VPS Plans Include 

Choice of OS
Choose from Centos, Ubuntu, Windows, FreeBSD, Debian, openSUSE and AlmaLinux.

Multiple Control Panel
Choose from the most popular control panels like cPanel, CWP Pro, DirectAdmin and Plesk.

Multiple Storage Options
Choose from multiple storage options like HDD, SSD and NVMe for fast data read and write operations.

Multiple Data Centers
Choose from our multiple data center locations for your VPS hosting server like Europe, USA and Asia.

Upto 1Gbit/s Port Speed
Choose from 200Mbit/s, 400Mbit/s, 600Mbit/s, 800Mbit/s and 1Gbit/s of port connection speed.

DDoS Protection
All vps server hosting plans at myglobalHOST comes with built-in DDoS protection.

99.95% Uptime
We offer 99.95% of hosting uptime guarantee

WhatsApp Support
Apart from Live Chat, Email & Phone support, now you can even reach us on WhatsApp.

Excellent Track Record
We bring an excellent service handling record with over 98% happy customers.
NVMe VPS 1
Data Center: Europe, USA & Asia
4 Core + 8 GB RAM

50 GB NVMe Storage

Gen 4 PCIe NVMe

1 IPv4 Address

Root Access

99.95% Uptime
NVMe VPS 2
Data Center: Europe, USA & Asia
6 Core + 16 GB RAM

100 GB NVMe Storage

Gen 4 PCIe NVMe

1 IPv4 Address

Root Access

99.95% Uptime
NVMe VPS 3
Data Center: Europe, USA & Asia
8 Core + 32 GB RAM

200 GB NVMe Storage

Gen 4 PCIe NVMe

1 IPv4 Address

Root Access

99.95% Uptime
NVMe VPS 4
Data Center: Europe, USA & Asia
10 Core + 64 GB RAM

400 GB NVMe Storage

Gen 4 PCIe NVMe

1 IPv4 Address

Root Access

99.95% Uptime
F.A.Q.
Frequently Asked Questions
Do you offer Virtual Dedicated Servers?
Yes, we offer VDS server based on the customers custom requirement. Kindly contact us to get the free quote.
What is a vps and how is it different than vps hosting server?
A virtual private server or a VPS, as the name suggests is a virtually isolated server condition created from a dedicated server into several virtual servers with every server getting its dedicated resources like disk space, CPU, and memory, making it completely yours with multiple root access for each virtualization (vps). So you can say that you have your own server, but virtually. Every single VPS server is completely isolated from other servers and functioning like any regular dedicated server. As several virtual private servers function from a single physical server, the operating and maintenance costs are remarkably reduced making VPS server hosting an affordable alternative to dedicated server.
Is VPS server secure?
Ofcourse Yes!, VPS server itself provides a higher level of security. And as we offer vps server service, we will monitor & safeguard your VPS server's infrastructure in case of a managed vps server. Your website or app will not be impacted because of any activity happening on another site that is hosted on other virtual servers on the same physical machine and your allocated resources will be available to you all the time. Moreover, all vps hosting server plans at WEBSTRIO Hosting comes with built-in DDoS protection.
Is there any snapshots / auto-backups in cheapest vps hosting server?
For Snapshot: Yes, each VPS comes with monthly snapshot facility which can be availed by paying a nominal charge apart from the base vps server price.
For Backups: We do not manage the backups of your websites hosted on VPS server. However our server administrator can help you setup and manage the vps backup easily.
Is it necessary to have technical knowledge to manage vps server?
No! If you are planning to buy a vps hosting server to manage few of your self owned business websites but in a certainly yes if you're planning to have a vps server for testing / production applications like NodeJS, Python etc. However, at WEBSTRIO Hosting Services we offer you buy the cheap vps hosting server for your requirement with both managed & unmanaged options which you can choose while ordering the vps from us.
How much time will it take to set up my vps server hosting plan?
Normally, any linux vps server you order from myglobalHOST is deployed almost instantly. However, It may take upto 48hours also in case you're opted for specific OS or Control Panel.
Still Not Sure If a NVMe VPS Is Right for You?
Using a control panel similar to cPanel/WHM, Plesk, Direct Admin, and CWP Pro is simple when managing your VPS (Cloud Server). Choose the control panel option that is suitable for you when you order your VPS to simplify management. You may also purchase a VPS running CentOS 7 and install a control panel subsequently, if you desire.
What They're Saying
Customer Testimonials
WEBSTRIO Hosting Services is really good and affordable. Highly recommend WEBSTRIO Hosting Services for any one who need secure and best performance hosting.
WEBSTRIO Hosting is a best option for people who are looking for high performance in website loading speed with an affordable price.
WEBSTRIO Hosting is one of the best hosting provider in India. They offers the best hosting packages that meet your budget and requirements. Their staff is very responsive and customer service is very quick to respond.
24/7 Award Winning Priority Support
With our in-house team of engineers and technicians, you can rest assured that whenever you need help, we're there for you. Our 24/7 support comes with an average ticket response time of 20 minutes, so you can be assured that whenever you need help, you'll get it fast. Our team of in-house engineers and technicians is there for you whenever you need help.